"If you're looking for a carbonator to make any type of drink fizzy then this is definitely worth it, and it also comes with a CO2 gas canister so you can use it as soon as it arrives, unlike other designs on the market"
"The DrinkMate Home Carbonation System is ideal for anyone looking for a sleek and affordable soda maker, and it stands out from the crowd thanks to its ability to carbonate any drink."
"The Drinkmate is by far the best option if you're planning to carbonate drinks other than water. The versatility that being able to carbonate any beverage provides is incredible and people love experimenting and discovering new and delicious beverages that are easy to make."
Easy CO2 Refill Exchanges
The UAE's widest refill exchange program – cylinders and refills delivered right to your doorstep
Fuss-free Sparkling Water
Our latest addition – Sparkling water, made easy!
bottles saved from the bin, & counting...
Since we launched in 2017, our customers have collectively saved millions of bottles from the bin.
Get your Soda Maker today and eliminate single-use waste without having to give up your sparkling water!
See what our Customers are saying about us

Charlene Kruger
Thank you bubble bro!!! Ordered and within a couple of hours it was delivered. Super easy to use and man, were there bubbles!!!! 💕💕💕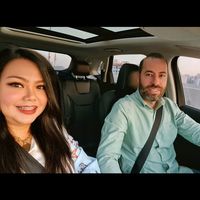 Joecel Fatima Rollon - Assi
Super impressed with our Bubble Bro, saves a lot of money from buying the sparkling water and the customer service is topnotch! They immediately replaced my damaged bottle! Highly recommended! The red color is pretty 🥰

Bryan Doyle
This service is one of the best I have experienced in the UAE. it has all the qualities that a family run business should have, really recommend supporting this business in these times 🤜🤛

Manon Van Buuren
Love my DrinkMate, and Bubble Bro's service. I've had my DrinkMate for a couple of months now, and use it almost daily, both for plain water and different concoctions (try the fresh strawberry/lime ginger ale recipe on their website). Service is, as others have mentioned, second to none: fast, correct, and always really friendly.

Nadiah Mohammed
Product is amazing, and customer service is great!!

Heidi Godinho
Best soda maker ever! Very happy.

Angela Marianne El Gendy
Absolutely 5 stars!! Fantastic customer service, questions answered very quickly, extremely quick delivery!! The bubble maker is VERY easy to set up & use & videos on bubble bro facebook page clearly show how best to use the bubble maker. I've wanted one of these for ages & I'm so pleased I finally made the decision to get one especially from bubble bro ... just wish i'd gone for it much sooner!! Thank you!

Ariane Porter
Excellent product! It is really easy to use and the customer service is the best I have ever come across. 5 Stars all the way!