Our CO2 Cylinder Refill Exchange Program
Our Refill Exchange listing can be found here if you'd like to jump straight to ordering a refill delivery.
Additionally, if you'd like to exchange your cylinder in person visit our Store Locator to find your nearest stockist or retalier.
bubble-bro operates the UAE's first and largest CO2 cylinder refill exchange program. If your cylinder's out of gas, you can order refills online or exchange your cylinder in person at a growing number of retail locations. Here's what you can expect and how our exchange program works:
What to expect from each bubble-bro Cylinder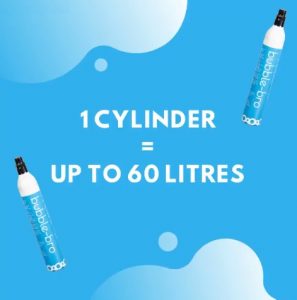 Each bubble-bro cylinder tends to produce between 40-60 litres before running out – the range depends on which soda maker you use and how heavily you like to carbonate your drinks. For example, with the Drinkmate if you carbonate to the limit every time, you will likely end up on the lower end of the scale, closer to 40 litres.
It's worth keeping in mind that carbonating past the point of your soda maker's release valve kicking in (when you hear the hissing or buzzing sound) means you'll use more CO2 per bottle and may end up with much lower production levels, especially if  you double or triple carbonate your water to make it extra fizzy.
How to check if your Cylinder has run out
If you'd like to make sure that your cylinder has completely run out of CO2, there are a couple of things you can do:
1) Try tightening the cylinder and seeing if it still has pressure when you carbonate. At times, if a cylinder hasn't been screwed in tight the pressure from carbonation can cause it to gradually come loose. Periodically checking and making sure that the cylinder is screwed in tight is the easiest way to avoid this happening.
2) If you've got a kitchen scale handy, try weighing the cylinder. A full cylinder weighs between 1.15 – 1.2kg and an empty cylinder weighs between 750 – 800 grams. Anything in between means you've still got CO2 left in the cylinder. 
Our Refill Exchange Program



When it comes to refills you have two options:
1) you can visit any retail store that carries our refills and exchange your empty cylinder with a full one on the spot. Check our list of stockists or call/WhatsApp us and we'll guide you to the store that's closest to you.
2) you can order a order a refill/exchange from us online – we'll deliver full cylinders to you and collect your empty ones at the same time. We dispatch and deliver orders as quickly as possible, and while orders are usually delivered within 24-48 hours timings can vary by Emirate. If you'd like to know how long delivery to your Emirate takes, check our shipping policy for details on dispatch and delivery timelines.
The cost is the same for both options (AED 60 per refill) , but online orders that are less than AED 100 in value result in an AED 15 delivery charge so it's best to order 2 or more refills at a time to get free delivery.
Pro tip: Most of our customers that opt for regular deliveries end up having 3 cylinders so that they can order 2 refills at a time and still have a spare to use while the refills are being delivered. Stock up on cylinders here and you'll never have to worry about running out!
bubble-bro empties only, please!
Although they may look the same and the threads may be similar, there are differences in valve mechanisms and cylinder / CO2 quality may vary between brands. For example, Sodastream cylinders have a valve mechanism that has been designed in a way that prevents third parties like us from refilling them with our equipment, and for this reason we're unfortunately not able to accept other brands' cylinders in exchange for ours. If you don't have a bubble-bro cylinder yet, please first purchase a new cylinder or cylinders here and from then on you'll be able to make use of our refill exchange program.
Ready to order a refill? Head over to the listing for refills in our online store and order yours now!